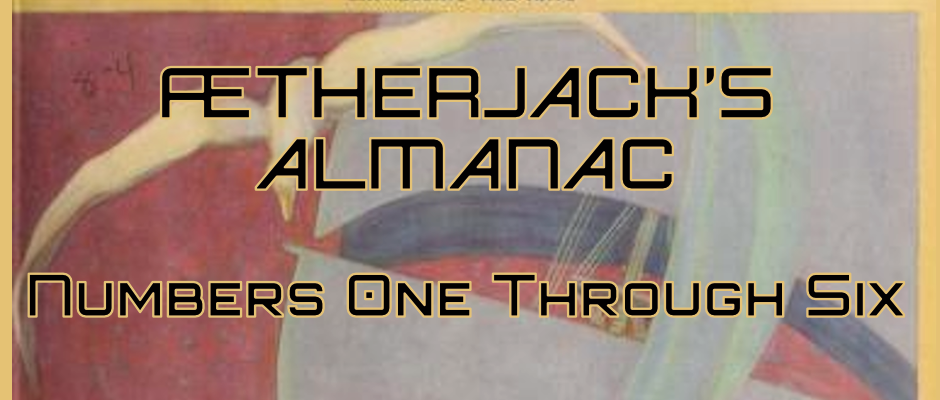 Ætherjack's Almanac Numbers One Through Six
One through Six now available collected in real physical form. Online at Spearwitch.com

How exactly do golden barges traverse the humpbacked sky?
The anti-canonical answer to that is found here in the first issue of Ætherjack's Almanac. Covering the three most common forms of engines, an unemployed elemental background, and npc statistics for air and fire elementals.
Issue Two of ÆTHERJACK'S ALMANAC your source for semi-weird space-fantasy for Troika! is here in both eye rending color and safe for life black & white. Contains one background, stats for a warship, stats for two different NPC versions of the warship. Conversion from the vintage science-fantasy setting not enough people love & brief combat rules for space combat.
Number 3 includes description of a small personal craft built and primarily piloted by moon-rats for divers purposes, mostly defending ætherjammers from pirates, scouting areas, or some light mercenary work. Included are simple rules for engaging ætherjammers with such craft and personal weapons.
Number 4 includes a person cybernetically and permanently bonded to a small golden barge, who has to work off mega credits of student loan debt incurred from being enrolled at birth.
A roomba with a knife.
Classifications of Spheres and why you use golden sails and not rocket engines.
Number 5 contains ship cards with stats for the following craft:
Ætherat WNG-F/LC Twin-Engine Winged Ferry/Light Cargo Æthercraft
Swyver no. 3 Fighter Æthercraft
L5er Fritillary Multi-Purpose Light Æthercraft
Number 6 Contains:
A derelict AI controlled warship background
Stats for both a derelict and peak version of the Iridium Frigate
NPC stats for cybernetic corpse soldiers

On Ætherjack's Almanac Number 1:

"It is a refined offering, and certainly the best file I've read by Ian Woolley so far – enough to make me excited for more!" - Thilo Graf / Endzeitgeist
On Ætherjack's Almanac Number 2:

"These adventures [in Icy City Troika] pair well with...Ætherjack's Almanacs" -@aaronmfking/https://erinking.itch.io/

"Ian Woolley delivers big time here – on just two pages, you get a great, mechanically precise engine that lets you seamlessly convert space ships/spacefaring ships/vehicles to Troika!, and we get some default stats as orientation, and a neat high-risk background. What more could you want? This is a resounding success of a mini-zine. Final verdict: 5 stars." - Thilo Graf / Endzeitgeist
On Ætherjack's Almanac Number 3:

"I am starting to *really* like Ian Woolley's æthercraft rules! Where the global ship rules in volume two were super-impressive, this pdf provides something just as compelling – an extension of the engine to encompass smaller vessels on a personal level...if you like the engine proposed in #2, you'll have fuel-based boosts and dogfighting added here…and that's darn cool. As such, my final verdict will be 4 stars." - Thilo Graf / Endzeitgeist
On Ætherjack's Almanac Number 4:
"bit more conventional than the previous two, featuring one genuinely great background that offers a unique playing experience. It also provides some rather welcome definitions that you can easily use and tweak to sail the humpbacked sky.
This is a good pdf: It has charm, and the shell person background is certainly worth the asking price if it even remotely interests you. My final verdict will be 3.5 stars, rounded up." - Thilo Graf / Endzeitgeist
On Ætherjack's Almanac Number 5:
"Ian Woolley's Ætherjack's Almanac-series is a genuine boon to Troika! The engine is fun, and while these pdfs are brief, they deliver quality...I can't wait to see where the author goes with these. My final verdict will be 4.5 stars..." - Thilo Graf / Endzeitgeist
If you like this, please consider picking up!
Ætherjack's Almanac: Numbers One Through Six is an independent production of Axes & Orcs and is not affiliated with Melsonian Arts Council.
Purchase
In order to download this chapbook you must purchase it at or above the minimum price of $13 USD. You will get access to the following files:
Ætherjack's Almanac 1-6 Color - High Contrast - Rev4.pdf
6 MB
Ætherjack's Almanac 1-6 Color 3rd Printing Rev1.pdf
7 MB
Ætherjack's Almanac 1-6 BW 3rd Printing.pdf
5 MB
Aetherjack_1-6.epub
903 kB
Ætherjack's Almanac 1-6 Color 3rd Printing Rev3.pdf
7 MB